Options

It's said, "beauty is in the eye of the beholder." That's true, but with time, most people change their attitudes about looks. The first fly rod I built had a foam handle and a Fuji reel seat. Even today it will catch fish, but I don't really take it out and show it to all my friends. I do occasionally show off one of my bamboo rods. I have some ideas about what I like in a bamboo rod. Your tastes may vary from mine and that's fine. If you want one of my rods, we'll start with my idea of how a rod should look, then see what you'd like to change.


To take a closer look click on the rod.
I can do just about anything you want done. I will not, however, use Fuji single foot guides or a Fuji reel seats. Nor will I use a foam handle. Most other things I can support. My rods come in two versions, the Makers rod and the Extended options rod.
The makers rod is a rod built the way I like a rod. Plain by some standards. While not expensive, hardware is both attractive and functional. I can use your choice of bright, black or walnut reel seat, black, green, brown or red wraps and tips. (Special colored thread may be ordered at no additional cost.) A forest green or green bamboo print rod sock and an aluminum and wood rod tube are included. Upgrades can be special ordered.
The Extended rod has upgraded hardware, reel seats, guard wraps and decorative wraps to give the rod a different personality.
My basic rod is a "blond" rod. That is, it has no toning. If ask I can create brown tone, or even a flamed rod, however, this process may actually make the rod a bit brittle.

For quite a while I believed that classic rods all had cigar grips and down locking reel seats. It's only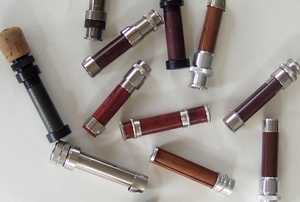 in the last few years that I discovered this isn't necessarily true. Many of the high end and mid-range fly rods had up locking seats. In fact some of them were quite fancy. Many rods had "Bakelite" (plastic) inserts. There were a great variety of reel seat mechanisms. Some were screw lock, some were sliding band, and some were spring loaded, some had sliding bands that had some type of mechanical lock.
Many of the rods had half wells grips. (Here we get into a discussion of what is a half wells grip? Is the large end at the front or back?) Some had full wells grips. And quite a few did have cigar grips.
So I've come to like a "style" of rod that depends on the size and function. Small, light rods look best with sliding band reel seats and cigar, "half cigar," or Western style grips. Mid size rods look best with up or down locking screw type reel seats and western or half wells grips. Large rods look best with half wells or full wells and heavier reel seats.
Other hardware includes the tiptop, snake guides and stripper guide. I tend to use a wire frame stripper guide in size 8-10 for smaller rods and Chrome heavy duty guides in 10-12 for larger rods. At an additional cost I can use an agate insert.
Normal snake and tiptop are what is referred to as "clear," which is basically chromed. However blued tiptop and/or snake guides are available.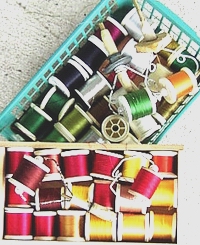 Wraps are another distinctive part of a fly rod. Old rods often had intermediate wraps. These were every inch or so. They were to supplement the old hide glue and were structural more than decorative. As new glues came out they disappeared. Quite frankly they were (and are) labor intensive, and today they're decorative.
I tend to stay away from a lot of decorative thread work. I do include a few extra signature wraps to give a "personality" to my MAKERS rods, but I try to keep it simple. Guard wraps are very nice, but they can add more than twice the amount of time spent wrapping. However I do add guide wraps and additional signature wraps on my EXTENDED rods.
I like red, black, tan, gold and brown as wrap colors. Green can also be nice. I try to stay away from blue, violet, yellow and white (yellow and white can become semi-transparent if I don't watch it). There are a few combinations of wine and white that can be very nice if done sparingly.
So start dreaming. What will your rod look like? Print out a worksheet?

---