Shakespeare 8 1/2ft 3p. This Shakespeare series was a very strong rod. Note the spring loaded reel seat.


Here's a picture of my rods from a few years ago. I've given several of them away.


One of my 6 1/2 ft. rods. This one is a 5wt. I was able to pick up the reel seat in Mountain Home, AR, at the Sowbug Roundup.



A down locking rod that I "re-built" from parts and pieced. This rod was auctioned off at my FF club.



Stripper Guides on two of my rods. I The heavier the rod the more likely I am to use a heavy stripper.


3 7ft rods
ready for sale.
Wrap work on one of the rods I donated to my club's Auction. I usually don't get that fancy with thread, but it was for a good cause.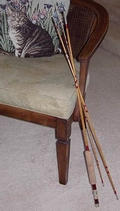 An 8ft 3p I did for
Karl Casias

Here's some pictures of one of my rods from the owner
Barry Demmers.





distance casting is a fun game. It doesn't prove much in fishing, but I've been able to cast this 7 1/2ft 5wt 80ft on a good day. Your results may vary.