---
Frequently ask questions.

"Why Bamboo?"
All fly rods, whether made of graphite, fiberglass, steel, greenheart, Ironwood or bamboo have a "feel" about them. Bamboo is said to have one of the best "feels" of any material. Bamboo is lighter than many traditional rod building materials but still has '"body." It's possible to feel the rod as it flexes. And while there are a limited number of mass-produced graphite rod tapers available, there are an infinite number of tapers available to the bamboo builder. Some find bamboo a link to fly fishing's rich history. But the main reason is, bamboo rods are just fun to fish.

"Why don't the BIG BOY'S make bamboo any more?"
Some, such as Orvis and R.L.Winston, still do. Most modern companies weren't around when the bamboo used on fishing rods (that comes from China) had an embargo placed on it. At that time fiberglass was being introduced in the "Wonder rod." Early fiberglass was inferior to bamboo in many ways, but it was available and could be mass-produced at a low cost. Eventually glass rods became very good fishing tools, but by that time they were being replaced by graphite. Even though bamboo is again available, graphite is more suited to mass production.


"Why do bamboo rods cost so damn much?"
The hardware used in a bamboo rod is about as expensive as hardware in any other rod. The real expense is labor. Estimated times to build a two piece bamboo fly rod range from 40 to 60 hours. Each section of a bamboo rod is made of multiple strips of bamboo. Although there are four and five strip bamboo rods most modern rods have six strips in each section. A two piece rod has 12 strips in it. A three piece has 18. Creating these strips is labor intensive. Although some parts of the process can be sped up by machine, the care needed to create a beautiful and functional fly rod can't be hurried.

"So how long does it take you to build a bamboo fly rod?"
I plan my production at one rod a month. That gives me a little time for unforeseen events. Actually planning and assembly goes fairly quickly. But drying time is something that I can't control. After each rod section is glued it has to dry for at least 48 hours. Finish has to be given drying time and usually takes several days to weeks, depending on the method I use and the humidity and temperature of the shop. Wraps also have several coats of finish and can take 48 to 72 hours to dry. I do my best to give a customer an honest target date. I also do my best to beat that target date, but I don't feel comfortable doubling up on rod orders. I also don't like to schedule to far in advance. I know that some makers are proud of the fact that they have a two or three year backlog, but I don't thing that's a good thing.


"I notice that your fly rods are much less expensive than other rods. Why is that?"
My reason for getting into the "business" isn't to try to make a living, although I don't want to go broke either. I've got two goals in mind. First is to continue to do something I enjoy. The second is to introduce people to bamboo by supplying a very nice rod. A rod that looks and fishes like a million dollars. I hope that after you fish my rod for a while you'd buy more bamboo. (you can never have enough fly rods -- right?) At that point you may return to me or you may want to check out some of the other excellent builders. If you buy one of my rods and five more from my fellow rod makers I won't feel bad. In fact I will have done what I set out to do.

"Most modern bamboo rods seem to be 8 ft or less. Why aren't bamboo rods as long as graphite rods?"
Granddad was a real man. In the golden age of bamboo rods the standard was a 9 ft 3 piece rod. Building a rod of this length that's both crisp and light is a challenge. Granddad either fished with a heavy rod or a rod of more modest power. Today most builders stick with shorter rods. Shorter Bamboo rods can be powerful and crisp without weighing enough to ware you out after a day of fishing. (Even in the golden age, dry fly rods were often less than 8 ft. )

"Isn't it true bamboo rods are slow and hard to cast?"
Not really. Bamboo casts differently than graphite. I'd call it a much more relaxed style of casting. In a good taper, the rod actually helps the caster by storing, then delivering power to the line. Loops can be a little larger in bamboo, but this doesn't mean shorter distances. Some bamboo rods are as fast as graphite, but normally not as much fun to cast as slightly slower rods.

"Aren't Bamboo rods much more likely to break than graphite rods?"
No. Most bamboo rods that are broken meet their fate just like graphite rods. They end up in a car door, or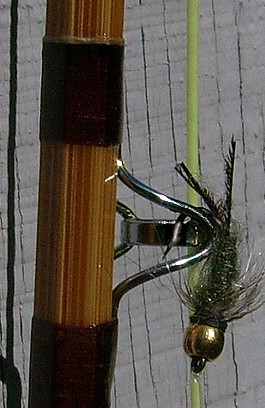 someone sits on them. One nice thing about bamboo is the rods can often be repaired, or rebuilt, when these accidents happen.

"Where's the hook keeper?"
I've had customers suggest that I include a hook keeper on my rods. Actually I do. I keep my hooks safely off my rods by hooking them between the stripper guide and and the guide support. It's one of the reasons I use the stripper guides that I do. Here's a picture of one of my rods with the hook over the stripper guide support.

If you want a hook keeper, let me know. they're inexpensive and I can include one at no charge.