Look at the profiles of the forms to the right. Which are okay to use and which aren't? (assuming the triangle "A" is 60º on all sides) Take a few minutes before you read the text. Think about what you're seening.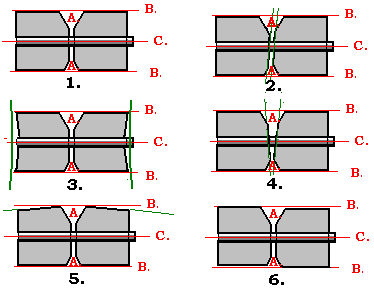 Answers...

(1) Is what you're looking for. Both "B's" line up with "C' and "A".

(2) Believe it or not this form will work, even though the slot (green lines) isn't square. "A," "B," and "C" line up. The slot closes completely.

(3) This one will also work. Both "B's" line up with "A" and "C." The outside angles don't matter.

(4) This is like no. 2. However if the gap didn't line up on the small v grove, you wouldn't be able to close the form all the way, on the tip side.

(5) Oop! This will never do. The top side "B" doesn't line up with "C." The form allows the plane blade to tip from side to side.

(6) This form has a real problem. Even though the two sides are parallel to "C" and are 60º to the sides of "A," they don't line up along "B." Everything's fine except for the fact that when you put your plane on these forms, it will never make the true equilateral triangle you're looking for.