Down to work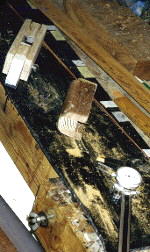 I try to select rod sections that are the same color and as close to my target size as I have. I examine each section for problems like strip separation. I remove any hardware/wraps that are left on the section. I check if ferrules are pinned. Some ferrules and guides end up in the spares bin, while others end up in the trash. I use a citrus based stripper to remove old varnish. (Michael Sinclair's book, Bamboo Rod Restoration Handbook, gives a very good explanation of this process. If you can't get a copy, the process is fairly simple. Completely cover the section with a citrus based striper. Watch for the varnish to start letting go. This can take from five to 20 minutes. Wash varnish from the strip using the Green scrub pads found in the cleaning section of your grocery store. Make sure you work is dry, when you're done.) At this point I inspect the section again. It's not uncommon for the heat used in removing ferrules and tip tops to make older glues give up the ghost around the tip or butt. If this is the case, I open the sections as wide as I can, without damaging them. I remove the old glue and use a dubbing needle or a small straight pin to cover all the inside sections with glue. I bind these sections by hand, then tie off and let them set over 24 hours.

Next, I transfer the information on the taper to my work surface. I start by putting small strips of 2" masking tape along one edge, every 5". I write the dimensions of each station on the tape. I draw a few reference lines on the surface so I know I'm not wandering off the area I'm trying to adjust.

Next I have to figure the starting point of the section. Unless you're using 6" stations, Rod sections seldom end at an exact station. For example a 7 ft. rod is 84 inches long. A two section rod will require an additional 1 to 1 ½" overlap for the ferrule. The tip section will be about 42½" and the butt will be 41½", depending on the size and type of ferrule. I use five inch stations, so the first butt measurement is at 45 inches. That means 4 and one half inches extend beyond the station. I place a piece of tape at this point. It will be base for all my measurements.
A pencil, dial caliper, old paintbrush and dustpan are my constant companions while I'm sanding the section. I start by drawing a mark on each of the sides I'm going to sand. This keeps me from accidentally sanding one side twice and missing another side completely. I've learned that the best way to sand the section is to sand one side then turn the section two flats, sand and turn two more flats. Then I turn one flat and repeat. When I've sanded the pencil mark from each flat, it's time to use the dial caliper to measure my progress. I use the brush to sweep the sanding residue into the dustpan. Keeping the surface clean and flat is important. I also wipe residue off the rod section before I measure. I keep the sandpaper clean with an old tooth brush and an art gum eraser.

When measured flat to flat, very few rods are exact. I mark sides that are over size and work on them. Once again, I don't sand any side that doesn't have a pencil mark on it.

How much material do I remove at a time? Not much. It's a feel that I've built up over the years. I count my strokes to keep things even. My fine sanding blocks are all longer then my course sanding blocks, but they still take off considerably less material than the course ones. On Butts I start out with no more then 50 strokes, moving the center of the stroke back and fourth along the section. On a tip I might start with only 20 ~25 strokes. I always try to end up over size. Remember, we're removing strength and I'd rather have too much than not enough!!

Additionally, I use step-down ferrules to lessen the amount of bamboo removed from the front end of each section. Step-down ferrules gain about .015 at each station. I usually end up flattening the taper a few inches before and after the ferrule to lesson the stress (give more flex) at both ends of the Ferrule. Ferrules don't flex, so let the bamboo do it.

The top drawing shows how I've learned to sand my sections.
Sides A. C. and E. first, then sides B, D and F.

Here's what can happen if you sand three sides, one after another.