There are four things a custom builder can easily do to makea rod a personal fishing tool. He/she can create or use a differentor even unique rod grip, different hardware a different reel seat.

Or the maker can wrap the rod with chosen colors and/or decorative wraps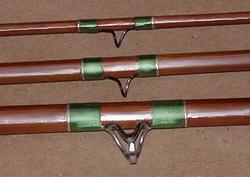 Thread comes in a variety of colors, styles and in nylon or silk. Silkis the traditional material for wraps, but nylon isn't that far behind. I usually use nylon, because it gives overall better results, though Ihave wrapped with silk and it makes a good wrap. The problem I havewith silk is when I actually finish the rod. It's then that discolorationor other problems jump out at Me. I end up replacing not only a wrap,but having to replace the protective coating over the wrap.
Colors
The choice of color can change the personality of the rod. Ipersonally like earth tones. Here are a few examples. (please note:these colors are to give an idea of the combinations, but will not be anexact match to the actual colors.)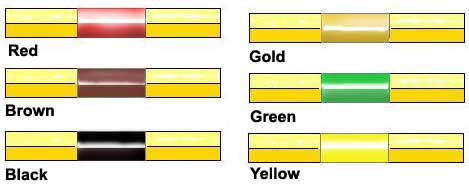 Color preservative can change a color, as can the finish I use on rods. The lighter colors, such as white and yellow can disappears altogether. These colors are usually NCP (or No Color Preservative required) and arenot as bright as other colors. Red often comes out closer to a winecolor.
Guard wraps
Often the wrap will have a short wrap at one end. This is usually3 or 4 turns of thread and is called a guard or trim wrap. Here area few examples.
(once again, this is strictly to give an idea of what some color combinationswould look like. It will not reflect the actual colors)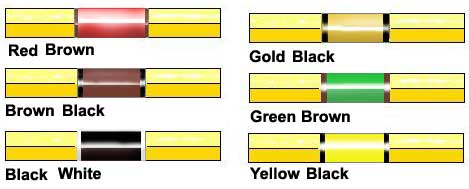 As you can see guard, tip, or trim wraps can completely change thepersonality of a wrap.

Another consideration is the color of the bamboo. I usually buildblond rods, but occasionally will die or "flame" a rod. (In somecases darkening bamboo can make it brittle.) This under color will alsochange the way a wrap looks.

Overall I prefer to error on the side of caution, in my choice of colors. I feel that colors that might clash, or might disappear, have no placeon a bamboo rod.