There are four things a custom builder can easily do to make a rod a personal fishing tool. He/she can wrap the rod with chosen colors, create or use a different or even unique rod grip and/or use different reel seat.

Or the maker can use different hardware.

Snake guides are the traditional guides used on bamboo rods. They come in several sizes and finishes. Chrome is the current standard, black is the Traditional color and TiCH which is a smoky color.
Stripper Guides can also be chrome, black or TiCH. You also have the choice of wire, solid or agate inserts.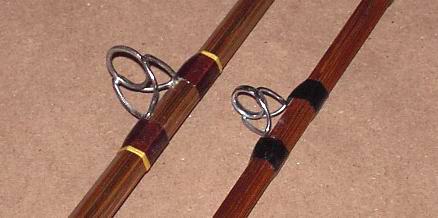 Tiptops also come in chrome black or TiCH.
I suggest you not mix material. Stick to one type of material.



TiCH hardware and stripper guides with agate or other inserts are special order and will increas the price of the rod.