* Uplocking rosewood insert (My standard reel seat)
The Uplocking reel seat with wood insert is my standard reel seat. It places the reel close to the back of the casting hand, moving the center of gravity forward.
The model I have chosen is light weight, attractive and functional. It's meant to last a long time.


Downlocking with walnut insert
The downlocking reel seat is another popular reel seat. This reel seat moves the weight of the reel away from the casters hand. It's often chosen for longer rods, where the weight of the rod needs to be balanced by the reel.
The Down Locking reel seat I use is attractive and functional.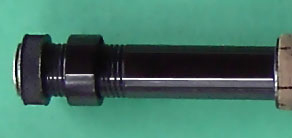 Uplocking aluminum
Another variation in reel seats is the material. This reel seat is an black anodized aluminum reel seat. These seats ar popular with people who want light weight.


Uplocking gold reel seat with redwood insert
Traditional reel seats are often made of aluminum or nickel silver. Today other materials are available. This reel seat features a gold colored alloy, bonded to the surface of the reel seat. This non traditional choice is seen by some as gaudy, however it can be tastefully done when paired with a matching reel.


Downlocking maple sliding band
The sliding band is another popular light weight reel seat. Contrary to popular opinion, the sliding band reel seat usually holds the reel very secure.
It's recommended for lighter, shorter rods. The down locking version will move the reel away from the back of the hand.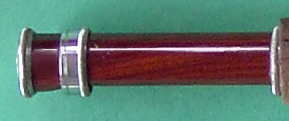 Uplocking rosewood sliding band
The uplocking sliding band will move the weight of the reel closer to the back of the casting hand. Good for small or light rods.