I'm not as good at trout fishing as I'd like to be. Part of the reason is that, because I live in Florida, I don't get much of a chance to actually fish for them. The closest trout are above Atlanta, GA, some 500 miles away -- more than a day trip. A vacation at a cabin in North Carolina gave me an opportunity to change some of that. (even if the majority of fish I caught was stockers.)


We awoke to dark overcast clouds in the Tampa Bay area. We'd packed the night before so my wife and I got in the car and headed north on Interstate 75. It didn't take long before we were battling rain. The rain and gloom maintained for most of the day. As we drove north we listened to a book on tape, Rolling Nowhere by Ted Conover . We spent the night in Georgia and arrived at Trout Cove Cabins, Brasstown, NC on Saturday afternoon.

There are 6 cabins scattered through woods, looking out at a grassy common area. The cabins are located Waaaaay back in the woods. Away from almost everything. They are modern, Clean and comfortable. Here's our cabin. Except for the location of the deck, it's identical to the other five.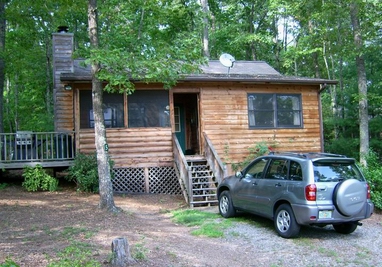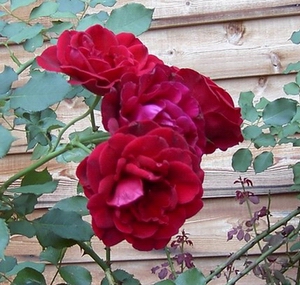 As we unpacked I couldn't help but notice that the rose bush outside the cabin, was blooming. I took it as a good sign.


After unloading, we headed for Haysville, about 7 miles away, to shop for food. I stopped by an outdoor clothing store to pick up my NC visitors license. The owner had enlarged the store since I was last there. They now carry a range of hunting and fishing equipment (though I didn't seen any signs of fly rods or reels.)

Sunday we attended services at a small but very robust Catholic Church.

Monday, I started exploring my surroundings. We'd been here before so I knew my way around -- kind of. The main landmarks in the area are Murphy and Haysville, both located on US64 and Brasstown, with the

John C. Campbell Folk School, located on old US64. I was able to navigate by keeping track of my location either above or below US64 and my distance from Murphy or Haysville.

To the south of 64 (and Brasstown) is Brasstown Creek.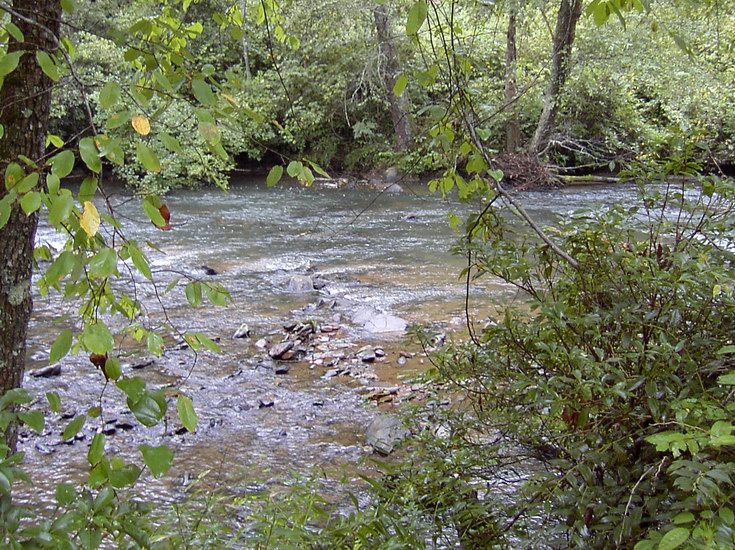 Brasstown Creek starts across the state line in Georgia, winds east, then north then back to the west before joining the Hiawassee River. It looks like a place I'd like to explore, but getting to the water is a problem. The main road is cut into the side of the hill south of the stream and about 25 to 50 feet above the water. There are very few turnouts. I was able to find one place with drives on the creek side of the highway, but the "No Trespassing" signs made me nervous about leaving my car to fish. I eventually moved on.

I headed north and, after following one road to a dead end, I found an entry to the Hiawassee river. a small gravel parking lot actually had steps down to the water. I'd guess the spot is maintained by one government agency or another. Most of the land along the waters in North Carolina is being grabbed up for home sites.

I had a host of rods with me, from a 6ft 2wt to a 7 1/2ft 5wt. I strung up a "Sir D," modified to 5wt, put on waders, grabbed my wading staff and waded in.



The Hiawassee River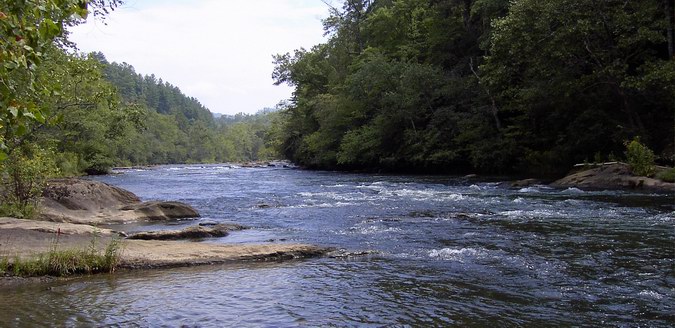 I spent about an hour and a half exploring the water both up stream...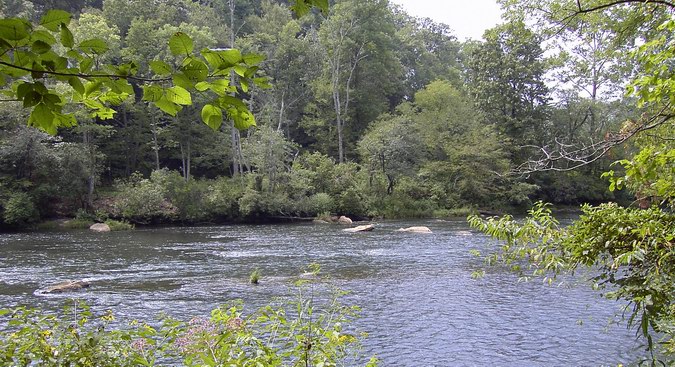 ...and down.
The extent of my success was one hit. Of course I was looking the other way, trying to find out where I should be casting next. I missed the strike completely.
I quickly learned that I'd forgotten most of what I knew about wading in running water. The stream, while not deep is fairly swift. Large flat stones are set at angles along the bottom. A felt sole will hold... most of the time. But more than once I found myself doing the "splits" when my boot lost traction! Eventually I honored my promise to return home by a reasonable hour.
We got a little rain that night.
Tuesday we headed to Waynesville, for a little business and some shopping. Beautiful country but more rain, off and on, all day.
Wednesday was a day I was looking forward to. Carey Mitchel had suggested we hook up for a day of fishing on the Hiawassee or the Toccoa. His first choice was the Hiawassee, in GA but distance was a problem for me so we decided to fish the Toccoa between Blue Ridge and McCayesville. We'd arranged to meet at McCayesville at 7:30.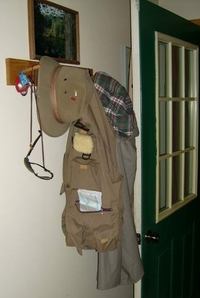 I packed the night before. (Note the rain coat.)
An alarm clock that didn't quite work and fog and rain made my arrival time 7:40. He informed me that they weren't going to generate that day. I was worried about discoloration because of all the rain. We decided to head to Blue Ridge and started our day by fishing the tailwaters just below the dam, reasoning that this spot would be the most likely to be have clear water. I pulled out the 7 1/2ft 5wt. It's an experimental rod that's a beefed up Monty 4wt with a heavy tip. I was interested to see how it performed. It fished just fine.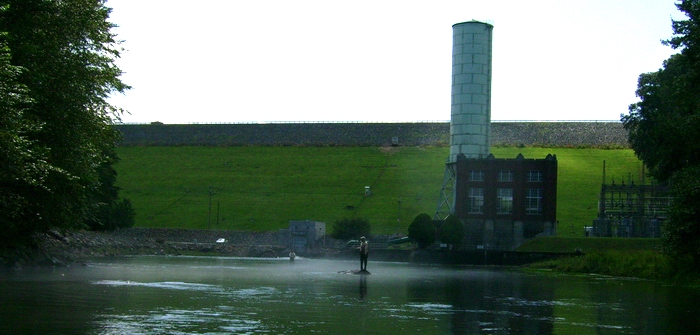 Two anglers try their luck below the Blue Ridge Lake Dam. The outflow is directly behind the further angler.
I'd tied some White spiders, Confederate Generals and a couple of sizes of Capt Kirkpatricks as a gift for his offer to share "his" waters with me. He said that the smaller Capt. Kirkpatrick might fool a trout on this stream, so he tied it on. Before I could get set to cast, he said, "Well, I got one. He hooked himself." And sure enough, the first of what was to become a long list of cookie cutter 9 1/2" trout was brought to hand.
After Carey landed a few fish he suggested I try a san Juan worm. I fished it for a while only to get it stuck under a rock in some deep water. I next tried a bead head PT nymph, and got my fist strike of the day. But I couldn't hook up. Carey watched me for a while and suggested a little different technique on my drifts to get extra slack out of my line. I followed his instructions and Landed my first fish of the day! At least I wouldn't be skunked!
Another of the little 9 1/2 inch trout.
Carey suggested I try a few more casts. Somewhere along the way I changed to an olive bead head wollybooger and it seemed to be the ticket. After a few more fish, Carey and I decided to try our luck elsewhere. We'd been fishing on a spit of land that ran parallel to the channel from the outflow. There was deep water on each side and more of those slick flat stones. While it was fun, I needed to try my luck under different conditions. We found a path and headed down stream.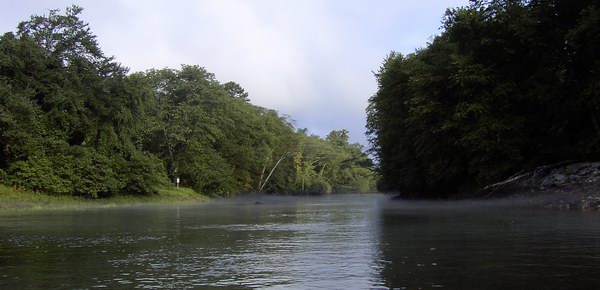 The Toccoa is fairly straight between the dam and US76. It's fished quite a bit.
One suspects this is where the stocker truck pulls up.
As we started to climb down the embankment we could see a multitude of fish swimming in the clear water. At first they came to the wollybooger but after a few fish they got wise to the game and things slowed considerably. Carey reported catching wild fish, more colorful and without the clipped fin. I called to him, asking if he though they'd hit on a beetle? He replied in the positive so I switched to a little brown foam beetle.

After another "learning experience" for one of the little 9 1/2" stockers. I cast into a shadow line along the far bank and was rewarded with an 11 1/2" fish -- one of my better fish of the day.

Lunch was at "Micky D's." (My grandmother used to say, "Dun or raw, fills the craw.") I told Carey I needed to gas up and would turn left out of the driveway and look for a gas station. He'd follow me. Two cars got between us and as I pulled on the street I saw a gas station on the right, so turned there. Carey figured I'd do what I said, and not go off on a tangent, so, not seeing me, he turned left. It took a few seconds for him to realize I wasn't in front of him anymore and return to my sheepish grin. "Well, we've got something to laugh about," I said.

For the afternoon, Carey lead me to a spot called Curtis Bridge. I switched back to the 7ft rod I'd used the day before.

A couple was just coming out of the stream when we approached.
"Any luck?"

"Not much."
The fish were a lot more picky here.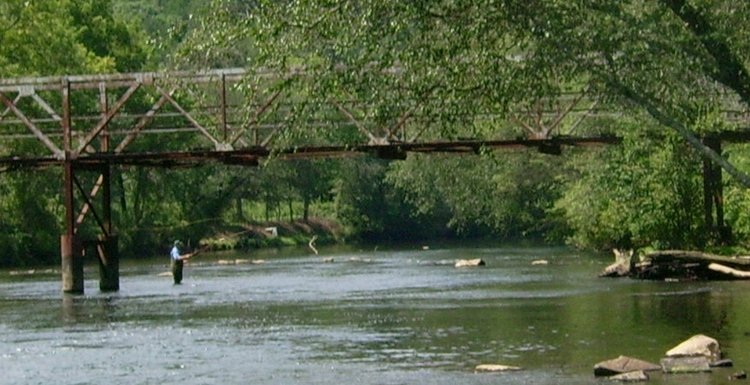 Carey fishing below the old Curtis Bridge. Beautiful water all the way around.
We divided the water, upstream and down stream of the bridge. I moved upstream and Carey moved down. I'd switched back to the wollybooger again, but wasn't having much luck. After about an hour of casting and wading practice, I started to head back to the point I'd entered the water. I saw a fish rise directly under the bridge. It was a fairly long cast with a driftwood obstruction just down stream, but what the hell. I cast, the WB drifted and the fish took! I was afraid the fish would head to the drift and break me off, I had way to much line out to come close to controlling the fish. But he didn't and I landed and released another 11 1/2" fish.
We decided to swap. We'd walk across the bridge and Carey would fish up stream, I'd fish down. As we crossed the bridge, Carey said, "Look at that!" Below us were a number of large fish, holding just upstream of the bridge. These fish were at least 15in and may have been larger. I'd been fishing over them the whole time.
I waded down a gravel bar, that's to the left in the above picture. The stones are what appears to be an Indian fish trap, set in a V. There's a fairly good run to the right of the river and I remembered what Hector Macedo taught me on the White, years ago. I waded near the end of the run and cast across and down, the swing ending just at the end of the run. I started getting hits, but missed the fish. Finally a take! It was a nice fish. I could see sunlight flashing off it's side. I decided to be a Dave Lewis and get a picture of this fish. I started backing toward the bank, planning how I'd take the picture. And of course, not paying attention to the fish, I lost it. So much for Ego.
It was getting late, I tied on the little beetle and started fishing up stream, back to the entry point. To add insult to injury I caught two fingerling about 4 in long each.
Carey and I each drank a beer, discussed the day's adventures and said our goodbyes. While the fish I caught weren't large, it was a wonderful day on some beautiful waters.
Thursday Marge and I went to Murphy. Murphy is tucked down at the very bottom of NC, next to TN and GA. It's also at the junction of the Nantahala, Cherokee and Chattahoochee National Forests. Murphy is the place where the "Atlanta Bomber" was caught and rumor has it that more than one of the locals probably helped him evade capture for a year. It's a fun game to watch the pickups roll by and guess if they might be one of those people In reality the people of Murphy are all extremely friendly and courteous. It's a nice town to visit. I dropped off a rod at H&H sporting goods and Marge picked up some presents for our nephew.
Friday was the last chance for fishing. I'd scouted out Fires Creek the last time I was in NC but hadn't had a chance to actually try my hand. I parked in a campground run by the US Forest Service. I knew that this stram was at least a 6 1/2 ft rod. I should have gone donwn to the 6ft 2wt. I fished down stream for about a quarter mile, then back up to the parking lot.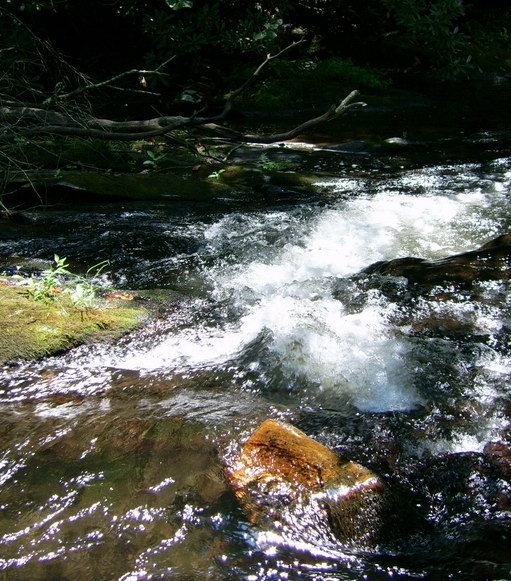 Just one part of a beautiful stream. Almost to beautiful to fish. Almost.
I did a lot better wading, but still not stealthy enough, to catch any real fish. I saw a couple and caught one small fish and missed a few others on a beetle. I just didn't take the time to fish the creek the way it should have been fished.
Saturday morning we packed the car and headed out. as we left the cabin I notice that a rosebud was opening and ask marge if she wanted to take it home. We put it in a bottle of water and put the bottle in the cup holder between us. It road just fine all the way home.