Eventually they'd get frustrated and take off.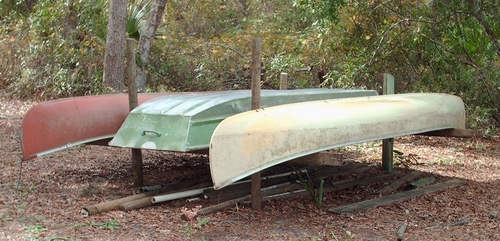 As soon as I could, I grabbed a rod, paddle and my boat bag and launched a canoe.
The boat and canoes are almost as old as the cabin. All of them leak. I've tried to stop the leak in the yellow canoe without success for years. There's a crack in the keel (Do canoes have keels?) that seems to be the problem. I always forget to bring up the Bondo when I come.
As I launched the canoe I couldn't help but notice the different sets of tracks at the waters edge. They included a large Dog or a wolf, a deer, a smaller deer (or maybe the goat?) and those of a a water birds. I've seen deer, wild turkey, owls, coral snakes, house cats and a hand full of other critters around. There are bears within 15 miles but I've never seen one.
The wind was up and out of the west. The cabin's on the southeast side of the lake, so it was a long paddle to the other end. I tied a woolly booger on the end of my tippet and began prospecting. It wasn't long until this fellow came to hand. He was around 8 or 9 inches long. But he was a start!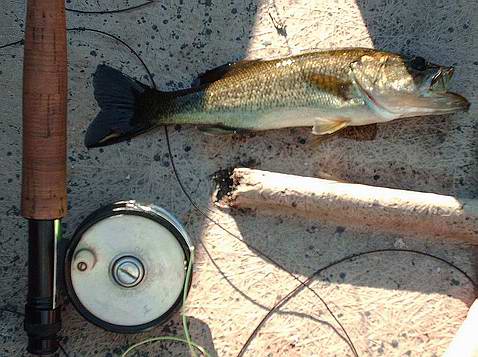 They got better. By the way, that rod is a Dave Lewis graphite rod. It's very fast and will handle a sink tip line very well.
I caught fish all weekend, except for Sunday when I was blown out by what Texans call a "blue" northern, a dry cold front. Not as bad as the ones that come roaring down from Canada across the great planes, but enough to put whitecaps on the water.
Here are a few of the other fish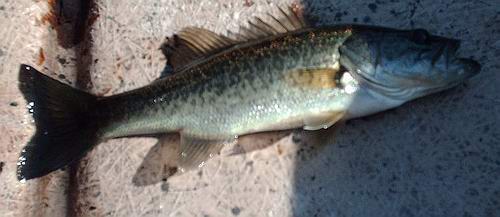 The last bass I caught before quiting, Saturday evening.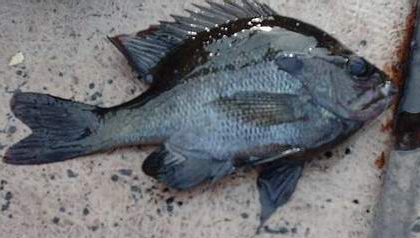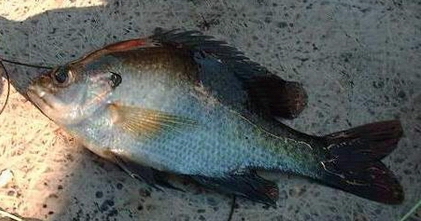 Two of probably 20 bream I caught over the four days.