This one went into the live well, "just in case." But you can see by the look on his face, he wasn't really happy about the size. We fished on. Then there was this...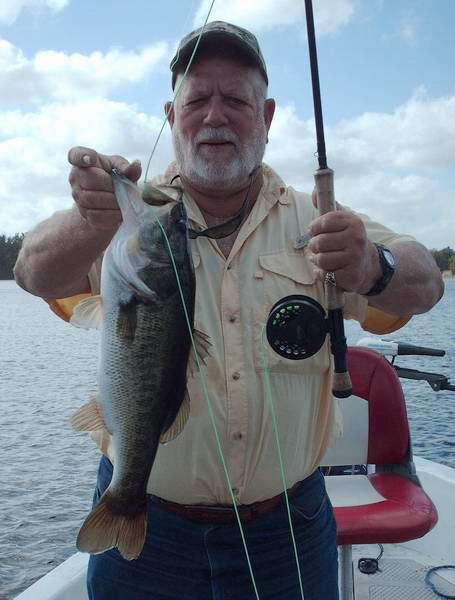 It took Don a few minutes to tire this guy out. He was ready to get in the boat and duke it out with Don. This fellow would go between 5 and 6lb.
SPLASH!
It went into the well with the other fish. We worked our way back to our starting point and Don as if I wanted to fish some more, or go home. "Let's fish down to those weeds," I said.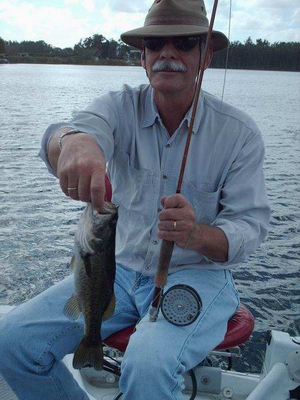 Then It was my turn to get into the act. I'd been catching bream off and on, but not as large as I'd like. Eventually I got my first bass. It went 12 inches. Not big for this lake.
I was fishing my 7 1/2 ft 5 wt. I'd been changing flys, from a foam spider to a bead head wollybooger to a LA hopper, to a deer hair diver, then a bead head wollybooger behind a spinner, and finally another deer hair diver. The deer hair diver did the trick.
Don had tried an old bamboo rod that had been in his family for several years. It cast Okay for a 3p 8 1/2ft rod. It had two tips. I 'd test cast it a few days before. I'd suggested a WF5.
On about the third cast, don got hung up on some grass. He gave the rod a little jerk and the tip broke. Why it was weak is anyone's guess. Maybe from years of sitting next to a hot water heater in Florida. Maybe it got put away wet. Who knows.
Don was hoping to catch his first "fish on Bamboo" that day. It will have to wait. I kept trying to let him use mine, but he was afraid he might break it. "That's why I build my own." I told him, "If it breaks I don't seen $1000 fly out the window."
We fished past the weed bed. I was sure there had to be a bass under a dock that we passed so I put an extra cast or two around it. I got a good hit and struck! The battle was on. It felt larger than the bream I'd been catching, more like a bass. But it wasn't tail walking. It was staying deep. Now I've seen bass that didn't jump, but not often.
| | |
| --- | --- |
| Eventually I got the fish to the boat and it wasn't a bass. It was a "Shell cracker," or "Red ear." A larger member of the bream family. Don kept trying to argue with me that the fish was at least 11in long, but I knew it didn't go11in because the butt wraps on my rod to to 11in, then a break then 12in. It didn't make it to the break. Sure enough it was 10 3/4 inches long, by the ruler on the inside of Don's boat. | |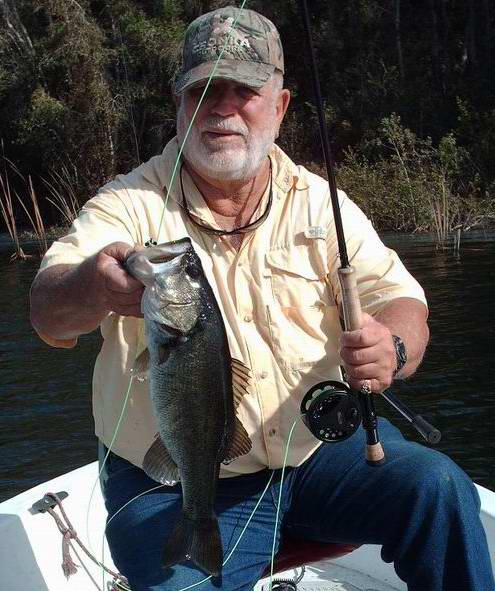 We continued a little further around the lake.

As Don caught his last bass, he turned to me and said, "I'm glad you wanted to fish a little more. They weren't biting earlier. Now they've started to. Open up that live well again, boy."

We kept three of the best fish. Two for the woman and one for Don.

We headed back to the unimproved launching site. Don and I got the boat back on the trailer and everything secure. I opened and closed the gate. (I could see what to step around, with the sun up.) We stopped for lunch on the way home.

I took his broken rod tip and mid section to try to rebuild it. (couldn't do it. My suggestion is that he try the other tip. It may last a lifetime or it might break too. Better to find out now then when you've got the fish of a lifetime on.
Oh yes. About the first fish. Don missed two strikes before I had my first bite.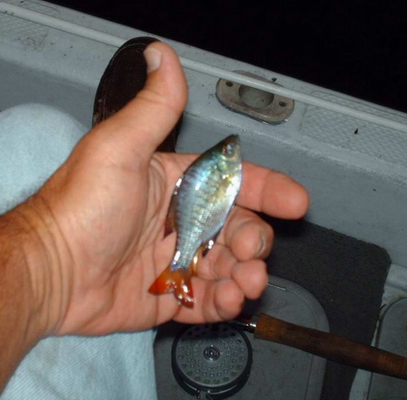 But I got it in the boat! This is the Dollar fish.
Don says he wants revenge...